1,2 m FlyAway antenna for live transmissions
In 2012 RTV RTC's engineers made a custom design of 1,2m FlyAway broadcast level antenna with excellent RF performance for live transmissions.
ERA 1,2m segmented FlyAway antenna on the low-profile tripod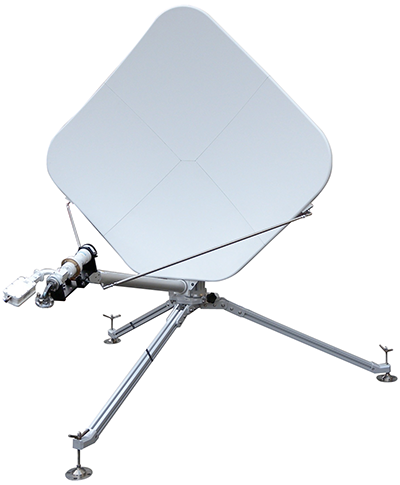 Reflector


Era – Cobham 12Kus model
1.2 m across-flats four-piece segmented carbon-fiber and aluminum sandwiched "Diamond" shaped reflector with feedboom and feed.

Optics & Feed
Offset, Prime focus, 2-port linear
Positioner & Drive mechanics

Azimuth travel ±30° fine, 360 coarse
Elevation travel 5-85° fine
Low-profile heavy-duty aircraft aluminum tripod
Dry bushings leg stowing & self securing mechanism
Dry slide bearing azimuth turn-table and elevation mechanisms
Stainless steel trapezoidal screw manual actuators for azimuth and elevation
Stainless steel ball-bearing leveling feet
Manual rotation of the feed, ±90° fine
12KuS antenna RF data
Band & Gain
Cross-polarization
Isolation
VSWR
Tx
13.75−14.5 GHz
43.6 dBi at W/G output of OMT (14.0 GHz)
<-35 dB within 0.3° of bore sight
40 dB excluding transmit reject filter
<1.3:1
Rx
10.95−12.75 GHz
42.2 dBi at W/G output of filter (11.7 GHz)
<-35 dB on bore sight
<-25 dB within 0.3° of bore sight
>35 dB
>70dB with transmit reject filter
<1.3:1
Eutelsat / Intelsat compliant sidelobe envelope, confirmed Eutelsat / Intelsat DSNG stations registration experience.
Flight cases
Polycarbonate with extruded aluminum edges enforcement and inside shaped foam locations. Soft-fastened locations for 48" flex-twist waveguide with quick-connect flanges.
| | | | |
| --- | --- | --- | --- |
| | Netto weight | Brutto weight in flight case | Flight cases dimensions |
| Reflector | 14 kg | Appox. 20 kg | 680(L)x590(W)x690(H) mm |
| Tripod, positioner, feedboom and feed | 27 kg | Approx. 40kg | 1450(L)x520(W)x420(H) mm |
Environmental data
Wind speed (survival) 18m/s
Temperature -40° to +60°C
Rainfall <100 mm/hour, Snow <50 mm/hour
Relative humidity <100%
Options
Waveguides and quick-connect flanges, variety of LNB/LNA
Remote manual rope drive of the polarization
Hardigg&Peli or Zarges flight cases
The tripod and positioner can be purchased separately and adapted for customer's reflector